Late Night KC – Top 5 Things to Do Late Night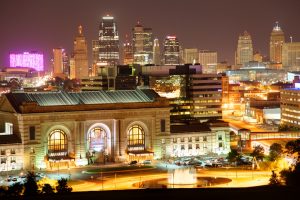 As a major Midwestern city, Kansas City offers an array of things to do from its famed BBQ eateries, world class museums and entertainment venues. When the sun goes down, though, the Kansas City nightlife heats up with several places to go for late night entertainment. Check out the following top five things to do late night in Kansas City.
Power and Light District
Located in the heart of Kansas City you'll find over 50 restaurants, bars, shops and entertainment sites, together covering over half million square feet. This entertainment Mecca is the Power and Light District. In addition to fine dining, you'll find top-notch entertainment in venues such as live music concerts, comedy shows, theater and more. If you're looking for the Kansas City nightlife, you'll find all you desire and more here.
Casinos
If late night entertainment is what you're searching for and you enjoy trying your hand with lady luck, then one of the four casinos in the city is just the place. Wherever you are in Kansas City, you won't have far to go to reach Argosy Casino, Isle of Capri Casino, Harrah's or Ameristar Hotel and Casino. In addition to hundreds of slots and many table games, you'll find world class dining and entertainment in each of these venues.
Music Clubs
After you've eaten at one of the city's fine restaurants, continue on with you late night at one of Kansas City's music clubs. Try Knuckleheads Saloon on Rochester in Kansas City. This is an over 21 club where you'll enjoy live musical talent playing the blues, honky-tonk and rock. Touted as the best honky tonk and blues bar in the city, this is one place not to be missed when you're looking for Kansas City nightlife.
Czar Bar
Located on Grand Boulevard in downtown Kansas City, the Czar Bar offers live nightly entertainment most nights of the week. Additionally, there is a 15-piece collection of art sculptures and oil paintings on display. Most nights when there is live music, the bar is for the 21 and over crowd. Check the website for details and tickets.
American Jazz Museum
Check out the local jazz history at this eclectic venue. A museum and live entertainment venue in one place, the American Jazz Museum offers an unforgettable evening of good music and history. Live jazz performances in the Blue Room begin at 7:00pm during the week and at 8:30pm on Fridays and Saturdays. The music plays until 1am on the weekends, making this on place you can enjoy the Kansas City nightlife.
After a long day at work, head out to one of these top Kansas City late night venues to relax and enjoy yourself.
---
RELATED: Best Bets For Live Jazz In Kansas City