Best Bets for Live Jazz in Kansas City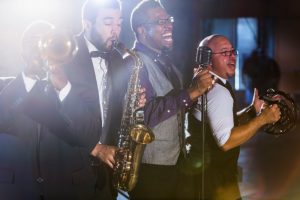 Whether you are visiting Kansas City for the first time, or if you routinely travel through, there is always something new and exciting to take in. From baseball to fantastic restaurants, there is never a dull moment. If you are looking for world class jazz, you are in luck, as there are several hotspots for live Kansas City jazz throughout the city, so you never have to travel far in order to experience a live show. Regardless of the day, there is a performance taking place somewhere in the city. You just need to know where to look. So take a load off, show up a bit early, and just let your imagination run wild as the musicians transport your mind to a world of jazz.
Argosy Casino Hotel and Spa
There is live jazz taking place here every single night of the week, so no matter when you are in town, there is something for you to listen to. There are routine players that take the stage every week, while guests are always on the calendar also, so whether you have a favorite performer or want to take in someone new, The Argosy Casino Hotel and Spa is the place for you.

Ameristar Casino Hotel
Similar to the Argosy Casino Hotel, this location features live jazz every night of the week, so if you have already listened to a performer at one hotel and want something different, swing on by the other hotel for a slightly different experience. The two casinos are rather close to one another, so it isn't a long distance to travel. Plus, once the show is complete, you can take part in some of the live casino games.
The Phoenix Jazz Club
When jazz is in the title, you know this is a fantastic location to experience local Kansas City jazz. The jazz club and steakhouse is situated right downtown, so if you want to enjoy a quality meal with your live jazz, The Phoenix Jazz Club is perfect for you. Just make sure to call ahead before stopping by, as the club does fill up quickly. Reservations are key to obtaining a table with a view, or in your favorite section of the restaurant.
American Jazz Museum/The Blue Room
Located in the Historic 18th & Vine Jazz District, the American Jazz Museum showcases the sights and sounds of a uniquely American art form through interactive exhibits and films, the Changing Gallery, the Blue Room jazz club and the Gem Theater, a 500-seat performing arts center. Thousands of visitors come here annually to enjoy education and community-based programs, traveling exhibits, over 200 live musical performances and other special events.
Kansas City Jazz Ambassadors
If you love jazz, but are looking for something a bit different, the Kansas City Jazz Ambassadors is the spot for you. You are going to hear something slightly different by the performers here, as they look to liven up the jazz scene. Plus, this is a great spot to bring a business group, as it can schedule performances for groups of 30 people or so. So should you and a large group absolutely love jazz and want to take in a performance together (having such a large group makes it difficult to find admittance together into most of the other jazz hot spots), this is the location for you to check out.
Elder Statesmen of Kansas City Jazz, Inc. 
The older they grow, the sweeter the music. That is an old saying that is proven here at the Elder Statesmen of Kansas City Jazz, Inc. The location has senior musicians jamming it out and has been doing so for over 26 years. They might not be as nimble as they once were, but the musicians sure know how to lay out a tune, and this is something you aren't going to find in most other locations. With all the jazz experience around the musicians in this facility, you might just find that you enjoy the music performed here than another other location in Kansas City.