The Seville Plaza Hotel in Kansas City recognizes the ever growing needs for dog friendly accommodations. We strive to offer our guests and their furry friends a comfortable stay and have done our best to ensure consistency at all of our pet friendly properties.
The Seville Plaza will allow up to two domestic dogs in a room, with a maximum size of 80 lbs per animal. Out of consideration for guests that may have allergies, etc., other pet types such as cats, birds, monkeys, snakes, or other animals are not permitted.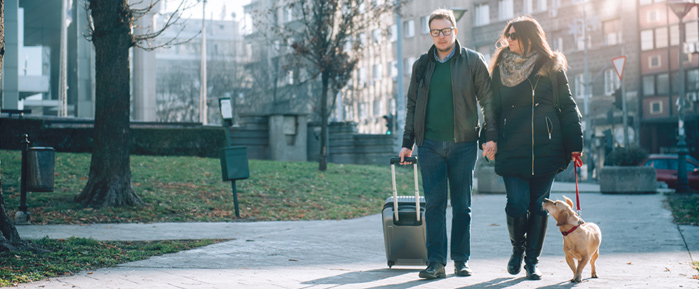 There may be a maximum $50 per day charge for each pet. A refundable damage deposit of up to $50 per stay may be required of all guests with a pet.
When making your reservation at our pet friendly hotel, it is recommended that you call the hotel directly if you have specific pet related questions and to guarantee availability of a pet friendly room.
Planning a vacation with your pet? Contact us and make a reservation.
Before You Go
Research basic information about pet friendly travel accommodations and make your reservations in advance.
Make a visit to your vet to update any shots your pet needs, check your pet for any health problems that may be affected by travel, get a health certificate and proof of any necessary shots from your vet, and get any medication your pet needs. Remember that you need a health certificate issued within 10 days of your trip.
Make sure your pet is well-trained, well-socialized, and used to traveling in your car.
Make sure your pet has the proper ID to travel, including and a collar with a current ID tag. You may also consider a collar tag with travel-specific information, such as your cell phone number.
Have your pet groomed before you leave.
Getting Packed
Your pet should have a crate or carrier. It must be:
Big enough to allow your pet to stand up, turn around, and lie down.
Equipped with handles/grips to move easily.
Familiar to your pet.
Labeled with your name and contact information, as well as marked "Live Animals" for travel.