What to Do With the Kids on a Rainy Day in Kansas City
With enjoyable activities like amusement park rides, street fairs, and attending baseball games; Kansas City entertainment has many family friendly options. But if you're visiting Kansas City with plans to enjoy the beautiful city in the sunshine, what can you do when stormy clouds roll in and raindrops begin to fall? Don't fret just yet. A rainy day doesn't have to mean being locked inside your hotel room with antsy, bored kids. There are many fun indoor activities that both you and your kids will enjoy during your rainy day in Kansas City.
For a truly creative and free experience, try taking the kids to Kaleidoscope. Giving kids the option to create art in many different ways, Kaleidoscope has different areas such as the Outer Space Room and the Country House to inspire and encourage. With materials left over from Hallmark manufacturing for kids to work with, Kaleidoscope is an imaginative destination of expression and creativity.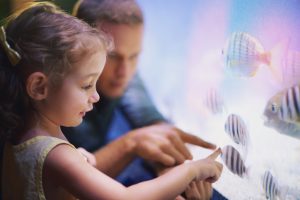 The brand new Kansas City Sea Life Aquarium boasts more than 5,000 types of sea life, with 30 amazing displays that transport you on a journey beneath the waves. Your family will love the underwater tunnel where they can see sharks up close and personal; or holding crabs and starfish in the Touchpool Experience. Lionfish, stingrays, seahorses and jellyfish are some of the most popular attractions. Plus, interactive talks and feed shows are held throughout the day to take you deeper into the lives of ocean creatures. A day at the Sea Life Aquarium is delightfully awe-inspiring and magical.
Looking for something active, but heading outside is still out of the question? Head over to the Great Wolf Lodge! Known as Bear Track Landing, it is always 84 degrees inside this 56,000 square-foot indoor water park. With six slides and rides, several pools, and even an interactive tree house, this water park is one of the biggest in the country. A day splashing and playing at the Great Wolf Lodge water park is a blast for everyone– truly some of the best in Kansas City entertainment.
Another awesome rainy day outing in Kansas City is easily located in The Great Mall. The one and only Game Zone has 8,000 square feet of arcade games. Play games individually or together as a family to win tickets and redeem them for great prizes at the Game Zone counter. Plus, Skate Zone– the only skating rink in the area geared towards kids 13 and under– is on the other side of Game Zone for additional, active family fun.
Visiting Science City on a rainy day will be a favorite experience for everyone. With numerous areas and corresponding activities, kids can explore and learn with freedom at Science City. The Dinolab is a fossil prep lab available for public viewing, where kids can watch a paleontologist work. You and your kids can then try your hand at the Digsite, using goggles and other supplies to unearth fossil replicas. Or, make noisy fun at Melody Park with a giant floor piano that kids can jump and step on to make different tunes. And then, experience the enchanting Gottlieb Planetarium together to learn about the solar system. Science City will not disappoint.
Figuring out what to do on a rainy day in Kansas City is easy, especially when you have so many adventurous and entertaining options. Entertainment in Kansas City can be educational, memorable, and exciting! Your rainy day out just may leave you and the kids crossing your fingers for more thunder and lightning.
---
RELATED: Kansas City Indoor Water Parks