Symphony Classic Series
Watch Ax play Mozart and Strauss' Merry Pranks June 2 – 4, hosted by the Kansas City Symphony. With Emanuel Ax on the piano, the Helzberg Hall comes to life at this beloved annual event. Enjoy Piano Concerto No. 19 and 16 along with R. Strauss' Till Eulenspiegels lustige Streiche, which was performed at the coronation of the Holy Roman Emperor Leopold II.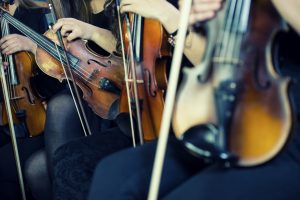 The composition tells of a German folklore mischief maker, taking listeners on a fun-filled journey. Tickets start at just $30, and it's the perfect weekend for a family outing, romantic date, or way to enjoy the arts culture of KCMO while here on business.
About the Venue
The hall, located at the Kauffman Center, features 1,600 seats and is host to a number of performance groups and artists from around the world. It's home to the city's symphony and is shaped as an oval for a generous stage that extends 33 percent into the space. Almost half of the seats are beside or behind the orchestra for an intimate experience.
See the concert from the perspective of the musicians. The "farthest" seat is only 100 feet away from the stage. With risers for quick alteration, acoustician Yasu Toyota is a master at making every concert unique.