Romantic Restaurants in Kansas City
UPDATED: 2017
---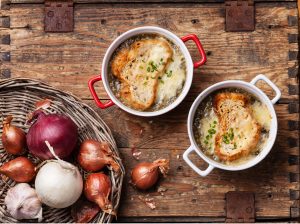 Really make an impression this Valentine's Day by booking one of the most romantic of hot spots in the city. Le Fou Frog is a surprisingly unpretentious pick (even with that name!) where you'll find the traditional French onion soup with port wine, veal stock, and a topping of gruyere and parmesan cheeses. You will also find foie gras appetizers, braised lamb shank and, of course, escargot. Sometimes the chef will even serenade you.
Bluestem offers a white tablecloth experience and a menu that takes new American cuisine seriously. Set-price tasting menus are a great way to sample some of the chef's favorites, and they're known for their "really slow food" – escargot. Traditionally reinserted into shells with garlic butter, they're a must-try.
Wining and Dining
Piropos is an upscale Argentinian steakhouse with incredible views of the city. Here, you'll find savory empanadas filled with beef tenderloin, onions, olives, raisins and spices. Try the breaded calamari with pesto aioli, grilled beef medallions with a brandy cream sauce, and for dessert the flan, crème brûulée, chocolate churros and bread pudding promise sweet endings.
Café Trio Restaurant has a live piano, lively ambiance, and the option of a year-round patio that overlooks the plaza. You'll want to order the small plates to share including crab cakes, caprese with local heirloom tomatoes, bistro filet tips, Cuban flatbread and fried green tomatoes.
---
When it comes to a romantic meal, Kansas City is not in short supply of restaurants that fit the bill. With several well known restaurants, you are bound to find a great spot to enjoy the evening full of romance.
One of the top rated restaurants and one of the top romantic spots in Kansas City, Bluestem, is everything you would expect a four star restaurant to be. Begin the evening with a drink from the wine lounge before enjoying an intimate meal that is sure to leave you swooning. Leave room for dessert. Their owner, Megan just happens to be a world class pastry chef.
LeFou Frog, is a charming French bistro that is located just on the edge of downtown's river market. With small tables, candle light dining and a continually changing menu, you will be swept off your feet with the atmosphere not to mention the delicious food.
Another great French cuisine can be found at Aixois. Just walking into the dining area will make you feel as if you are in Paris, the romance capital of the world. Sit by one of the large windows overlooking Brookside Boulevard and take in the warm atmosphere with your sweetie.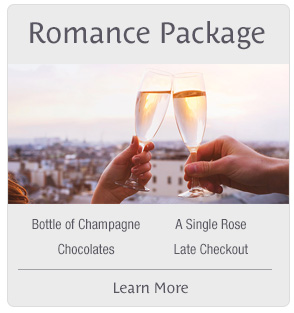 Third on our list is Lidia's Italy, a quaint Italian restaurant that oozes romance. The dining room is complete with a large fireplace, famed chandeliers and dim lighting to give you a romantic feel. The menu is just as amazing with a classic delectable cuisine that leaves you wanting more.
And finally, if none of those have peaked your interest, Piropos offers romantic Argentinian dining experience. Grab a seat by the fire and order a bottle from their great wine list for a more intimate dinner with your loved one. Oh, and don't forget to order the Papas a La Crema. You won't be disappointed.
Once you have wined and dined your loved one, be sure to finish off the night with a relaxing stay with us. We have just the package for you to make your night complete.