A KCMO Thanksgiving
There's plenty to be "thankful" for if you're spending Thanksgiving in KCMO—like endless options for your big dinner. The Oliver is a favorite for holiday occasions with a special prix fixe menu featuring four courses. At under $40 per person and with reservations available from 11:30 a.m. – 8 p.m., it's the perfect pick for all visitors. Starters, an entrée and dessert, as well as their regular full menu is available.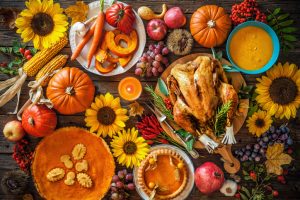 Try Gram & Dun for their three-course Thanksgiving special, also under $40 per person. Book your table between 11 a.m. – 8 p.m. and discover one of KCMO's most renowned of American dining options. A limited appetizer menu is also available, or sometimes guests prefer to order from the regular menu.
Giving Thanks
The Grand Street Plaza is known for their Thanksgiving buffet for just $25.95 from noon – 4 p.m. Dine on delectable turkey, whipped potatoes, stuffing, smoked ham, a carving station with prime rib, and all your traditional classics. Pumpkin and pecan pie are the sweet endings your holiday deserves.
Alternatively, there's the Bristol Seafood Grill's Thanksgiving Day buffet from 10 a.m. – 7 p.m. You'll find classic Thanksgiving dishes here, brunch favorites, and of course plenty of seafood from shellfish to fresh catches. It pairs well with their roasted Tom Turkey or the baked glazed honey ham with honey wine sauce.
Where will you indulge?